Praise the Lord, Azusa StreetRiders!
I am excited to share with you a new addition .
The Azusa StreetRiders now have a team of Chaplains.
I have noticed over the past few months an increase in prayer request and to meet the needs of fast growing membership,I have added Regional Chaplains to assisted our National Chaplain, Rev. Robert Eades and our National Ladies Chaplain, Rev. Julie McGhghy. Please call upon these Men and Women with your prayer needs.   I would like to thank each of our new Chaplains for their willingness to service.
God Bless
Rev. Anthony Storey
Azusa StreetRiders
National President
I've included a map of the five regions: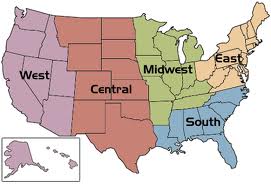 National Chaplain
 Rev. Robert Eades
502-750-2174
Robert.eades@azusastreetriders.com
pastorrobeades@bellsouth.net
National Ladies Chaplain
Rev. Julie McGhghy
513-315-5822
jmcghghy@hotmail.com
Eastern  Region: 15
Regional Chaplains,
Rev. Rick Perry, 203-404-0339, rperry@havenofhope.us
Sis. Laureen Theodore, 330-720-4382, delrio1703@aol.com
•Connecticut
•Maine
•Massachusetts
•New Hampshire
•Rhode Island
•Vermont
•New Jersey
•New York
•Pennsylvania
• Delaware
• District of Columbia
• Virginia
• West Virginia
• Maryland
•Ohio
South Region: 7
Regional Chaplains,
Rev. Justo Saavedra, 954-235-2442, justosaavedra@me.com   
 Rev. Ed Sears,  985-285-5966, cmrider@gmail.com
• Florida
• Georgia
• North Carolina
• South Carolina
• Alabama
•Louisiana
•Mississippi
Central Region: 10
Regional Chaplain,  Rev. Henry Cherry 504-2328103 hacherry1953@yahoo.com
•Colorado
•Kansas
•Nebraska
•New Mexico
•Oklahoma
•Texas
•South Dakota
•North Dakota
•Montana
•Wyoming
Midwestern Region: 11
Regional Chaplain,  Rev. Joe Jarvis
309-287-7764 hope.ministries@comcast.net
•Wisconsin
•Arkansas
•Indiana
•Kentucky
•Michigan
•Tennessee
• Illinois
•Iowa
•Michigan
•Minnesota
•Missouri
West Region: 9
Regional Chaplain,  Rev. Michael Moore
209-483-3381  mdmoore209@att.net
•Alaska
•Idaho
•Oregon
•Washington
•California
•Hawaii
•Nevada
•Utah
•Arizona