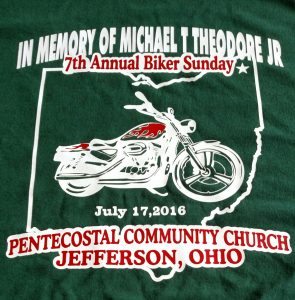 July 17 7th Annual Biker Sunday In Memory of Michael T. Theodore JR
Our 7th Annual Biker Sunday is right around the corner and we are getting very excited on what God has in order for us. We changed this years event up some still geared on outreach. This years guest speaker will be Brother Rick Perry from New Haven Connecticut. looking forward to hearing brother Perry.  Friday night is Meet & Great night at the Holiday Inn Express at 6 PM. Saturday Kickstands up at 9 AM For a nice ride and a little outreach there will be stops along the way as we make our way to a big Bike event on the shores of Lake Eire in Erie, Pa. We will then do a dinner stop on our ride back to the hotel. In the evening we are opening our home to everyone for some relaxing fellowship at the Theodore house. Sunday morning we will ride up to the church Pentecostal Community Church in Jefferson, Ohio at 9 AM Sharp. Service starts at 10 AM. There will be a dinner after service small cost of $10 for the dinner all the proceeds will go towards Motorcycles for Missionaries. Also we are selling event shirts cost is $20 for sm to xxl and $25 for anything larger. We are looking forward to spending time with our ASR family hope you can join  us as we keep our son's memory alive through our biker Sunday. 
If anyone needs more information you can Call me or email me.
Michael Theodore 
Blueknight1703@aol.com
330-720-0440
Host hotel is the Holiday Inn Express
135 Highland Terrace Blvd., Warren, OH